Perú, Lake Titicaca (2nd Chakra)
Peru is a country in South America that's home to a section of Amazon rainforest and Machu Picchu, an ancient Incan city high in the Andes mountains. The region around Machu Picchu, including the Sacred Valley, Inca Trail and colonial city of Cusco, is rich in archaeological sites. On Peru's arid Pacific coast is Lima, the capital, with a preserved colonial center and important collections of pre-Columbian art.
Two trips are planned for our Perú trip. The first trip to Sacred Valley/Machu Picchu will occur during rainy season (~February-April 2018). The second trip to Lake Titicaca/Madre de Dios will occur during dry season (~August-October 2018)
Sacred Valley/Machu Picchu
---
Sacred Valley of the Incas is a region in Peru's Andean highlands. Along with the nearby town of Cusco and the ancient city of Machu Picchu, it formed the heart of the Inca Empire. Stretching roughly 60 kilometers, it's an area of fertile farmland and Spanish colonial villages like Pisac and Ollantaytambo. Pisac is known for its Sunday handicraft market and hilltop Incan citadel.
Machu Picchu is an Incan citadel set high in the Andes Mountains in Peru, above the Urubamba River valley. Built in the 15th century and later abandoned, it's renowned for its sophisticated dry-stone walls that fuse huge blocks without the use of mortar, intriguing buildings that play on astronomical alignments and panoramic views. Its exact former use remains a mystery.
Lake Titicaca/Madre de Dios
---
Lake Titicaca, straddling the border between Peru and Bolivia in the Andes Mountains, is one of South America's largest lakes and the world's highest navigable body of water. Said to be the birthplace of the Incas, it's home to numerous ruins. Its waters are famously still and brightly reflective. Around it is Titicaca National Reservation, sheltering rare aquatic wildlife such as giant frogs.
Madre de Dios is a region in southeastern Peru's Amazon Basin, bordering Brazil and Bolivia. In the west, vast Manú National Park encompasses Andean highland, cloud forest and lowland jungle. Celebrated for their biodiversity, the savannahs and old-growth rainforest of Tambopata Reserve lie in the southeast. Just north is regional capital Puerto Maldonado, at the convergence of the Madre de Dios and Tambopata rivers.
Interested in being apart of the next RITMO™ Experience signup below.
Lake Titicaca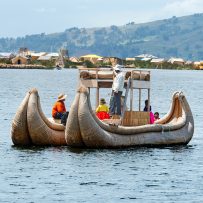 Machu Picchu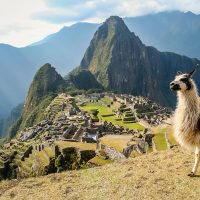 Sacred Valley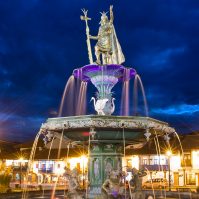 Traditions